Yahoo! has put together a great Top 10 Kitchen gifts list. I went through the list thusly, '"Need it, need it, need it, need it, I have my beloved Braun Tassimo Coffee Maker
, Have something similar, I have Wolfgang Puck's, want it, no use for it, have it." Four needs, one want, Four have its, and one no thanks. Not bad!
Here's the link to the list, see how you fare: Top 10 Kitchen Gifts from Yahoo! Shopping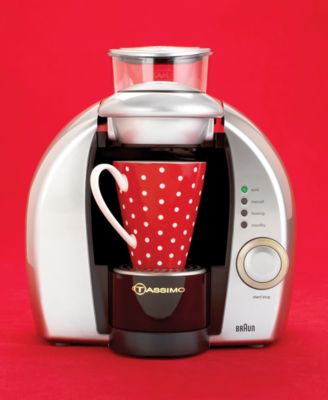 Now for my very own Get Cooking List of Top Kitchen Gifts!
Since the room of the house I live in the most is the kitchen, I think I'm 110 percent qualified to make my own little list of Kitchen Gifts!
I've heard from quite a few (at least 10) of you who have bought the Braun Tassimo Coffee Maker
because you read my recommendations -thanks for the vote of trust! I totally agree – it is amazing.
This beauty is available online (by clicking the link above) – or at Target or Macy's. I honestly don't believe they're sold anywhere else. Other versions of the machine are, but not the one and only Tassimo
.
So what makes Tassimo so special? My oldest daughter and I use our every single day. Our regular coffee maker serves us our morning cups, but when the afternoon or evening roll around, one cup is all we require. So, we turn to our Tassimo. We place our cup in the cup holder, put in the disc we're in the mood for (whether it's Espresso, Hazlenut, Starbucks House Blend, Chai Tea, Black Tea, Hot Chocolate, or any of the other countless coffees and teas. They've recently come out with an amazing line of Starbucks brand coffees – and, yes, we're working our way through each one! They're just like you get in a Starbucks coffeehouse.), wait a few seconds for the machine to warm up, push a button, and VOILA – a perfect cup of coffee!
The Braun Tassimo Coffee Maker
would be perfect….make that, beyond perfect….for:
1. A college student. A Tassimo and accompanying discs would make you public hero #1 every day of the year for years to come. How cool's that?!
2. Someone who lives alone. They can have a fresh cup of coffee anytime they want it.
3. Anyone who loves to have the newest, coolest things in their kithchen.
4. Busy individuals who come and go all day long. Sometimes they aren't home long enough to drink an entire pot, but one cup would be just the thing to see them through the next leg of their journey.
5. An office. Coffee in a pot gets kind of…oh…I dunno…gross when it just sits there. But a Tassimo would give a perfectly brewed, fresh cup each and every time.
6. YOU!!!
More about the Tassimo Discs:
(from Macy's.com)
So many beverages, so little time. Check out the ingenious T-Disc, designed to work exclusively with the Braun Tassimo machine, which provides you with all your favorite beverages with the same amount of work for all: next to none. Each T-Disc contains a precisely measured amount of coffee, tea, chocolate or concentrated milk, tightly sealed to protect the flavors inside. When you insert the T-Disc, the machine automatically calculates the amount of water needed, brewing time, and temperature to prepare the perfect beverage. Your beverage pours directly from T-DISC into your cup, so you can prepare different drinks, one after the other.
The hot chocolate discs make a heavenly cup of hot chocolate. Few things in the world pull me away from coffee or Chai tea lattes, but hot chocolate is one of them. Speaking of Chai Tea Lattes, there are discs for Chai Tea as well as discs of "Latte Milk Creamer." When you brew the Chai Tea into your cup, then brew a disc of Latte Milk Creamer onto it —–Heaven in a cup! If you love Chai Tea Lattes, you'll be over the proverbial moon at the prospect of being able to make one anytime you want it. No more running out to a coffeehouse at all times of the night.
There are also Cappuccino Foaming Milk discs that will turn any cup of coffee into a mind-blowing latte.
Okay, that was #1 on my list of Kitchen Gifts. The next post will be #2…and so on. I'll post #2 in a little bit – right now I happen to be starving to death, so it's time for a little nourishment. I've also talked myself into a Chai Tea Latte – so I'm going to run with the idea.