I may earn money or products from the companies mentioned in this post. This costs you absolutely no extra money (of course), it simply allows me to maintain the lifestyle my cats are accustomed to!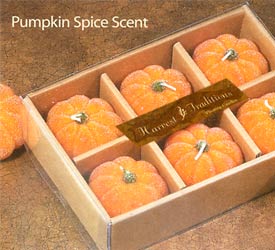 Today's the first day of Autumn and, for me, that's one of the biggest holidays of the year. Okay, so maybe it isn't recognized nationally as a holiday – but in my house it's huge.
I love this time of year – the sights, sounds, smells, colors.. even the feel. I'm so thankful that we live in an area (Kentucky) that decorates itself as much as I do my house. It's getting its autumn splendor on and it's a beautiful thing to behold.
The Frosted 6-Pc Pumpkin Set – 6-Pc Set
is a perfect way to bring more autumn into your home. Not only are they gorgeous, they're wonderfully scented as well. Sort of lets you tackle several senses at once!
From the Website:
This Frosted 6-Pc Pumpkin Set is perfect for either fall or halloween and is adorned with tiny beads to give it that sparkly frosted look. Comes pumpkin spice scented and nicely packaged perfect for gift giving.
Click through to see all the unbelievably gorgeous candles and accessories Candle Bay has.
Also See:
Get Your Haunt on With These Remarkable Halloween Dishes
Green & Black's Organic Chocolate
10 Piece Candle Set for Coffee Lovers