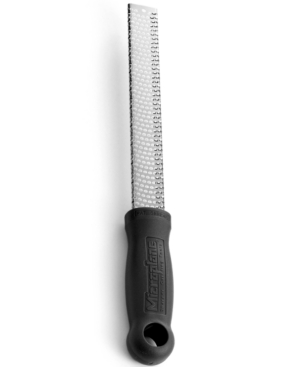 Day One of a New Series: Best Kitchen Gadgets!
One of the first "tips of the trade" I have for people who are either beginning to cook or are looking to become better cooks is this: Surround yourself with kitchen tools and gadgets that don't just make your life easier, but funner.
When you think about improving in a particular area – whether it's cooking, golfing, fishing, writing… – making something 'funner" or more enjoyable might not come to mind at all, let alone first. However, I've found that having more fun in life is one of the KEYS. Yeah, all caps, you know I mean business when my keyboard yells.
I find that certain kitchen gadgets, tools, pans, and whatnot simply make my time in the kitchen more enjoyable – and, guess what, if you're enjoying yourself, you're going to stay in the moment and do a better job.
The Rachael Ray Garbage Bowl
is one example that comes to mind. It simply makes life funner and, in my opinion, you can never have too much of that.
Another kitchen tool I'd never want to be without is my Microplane Zester. The one pictured above is the Martha Stewart Collection Microplane Zester
.
The microplane zester makes life easier AND more enjoyable in the kitchen. Using this zester when adding garlic to soups, casseroles, meat, stew, etc is actually better than chopping because it incorporates the garlic more evenly into the food – and you don't have to worry about random chunks of garlic overpowering the other flavors. It's also a heckuva lot easier than standing there dicing and dicing forever.
I also use mine for grating lemons, limes, and oranges and I recently used it on an onion I added to ground beef patties. Delicious!